Reclaimed Yorkshire Stone Roof Slates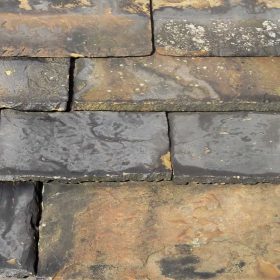 We sell Reclaimed Yorkshire Stone Roof slates by the tonne. The slates are carefully removed from existing buildings, cleaned and re-palleted ready for dispatch.  We often sell them in crates, but we can for an additional charge course them out for you. We will then produce free of charge of batten schedule for you to work from. We also do reclaimed ridges again depending on stock and availability.
Our reclaimed Stone Roof Slates are usually taken from old existing buildings typically found in the Yorkshire region and come in various sizes widths etc. Reclaimed Yorkshire stone roof slates are, as the name would suggest great for giving your building that rustic Yorkshire appearance.
Check out our Indian stone slate roof slates which can be weathered to imitate reclaimed stone roof tiles.
Both Trade and Public are welcome.
We are based in Holmfirth near to Huddersfield in West Yorkshire why not pay us a visit or give us a call. Nationwide delivery service available.